Start playing online chess now against real opponents and Grandmasters!
April 10th, 2019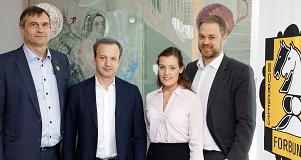 FIDE President Arkady Dvorkovich visited Oslo, Norway and met with the representatives of the Norwegian Chess Federation on April 9th on his way home from his trip to the ongoing Reykjavik Open Tournament. He managed to conduct a substantial program before the evening flight took him to Moscow.
The first couple of meetings addressed issues related to the possibility to organize the official Fischer Random World Chess Championship in the fall of 2019 in B?rum, Oslo, and then a discussion regarding the World Championship match in 2020, where Stavanger will be the candidate city for Norway.
After the meetings Mr Dvorkovich visited the flagship Chess Club Oslo Schakselskap (1884) in their iconic premises downtown Oslo, where club member GM Simen Agdestein told about the Chess school he is running at the High School Sports Academy. The Chess school was opened 20 years ago and the World Champion Magnus Carlsen and Junior World Champion Aryan Tari were among many students of Simen Agdestein.
Mr Dvorkovich's last port of call was the new chess pub The Good Knight, opened last year before the London World Championship match. The pub immediately became a huge success.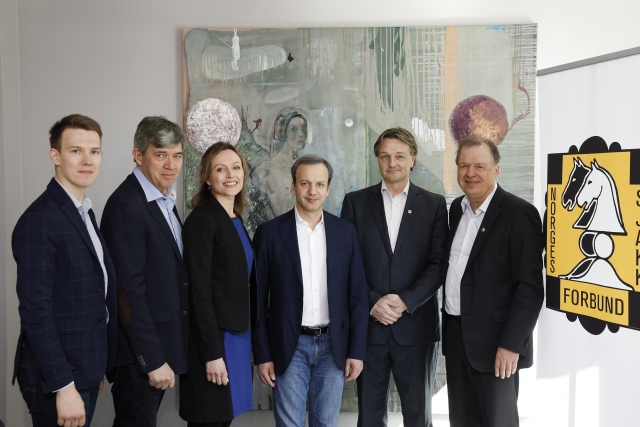 From left to right: Konstantin Kiselev, assistant to the FIDE President, board member Otto Milvang and Vice President of NCF Vibeke Ekeland Gr?nn, NSF, FIDE President Arkady Dvorkovich, and the President of NCF Morten L Madsen and Secretary General of NCF Geir Nesheim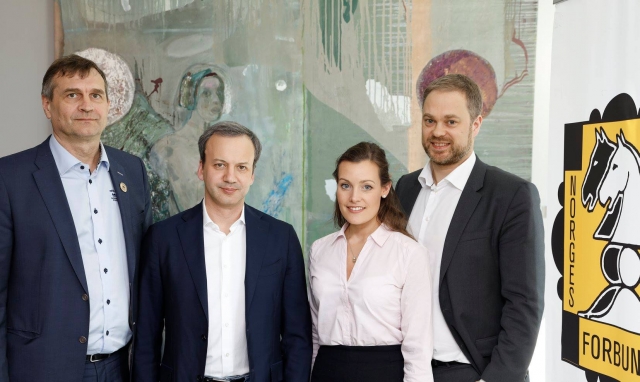 Mr. Arkady Dvorkovich, in meetings with founder of Norway Chess Kjell Madland, project manager Benedicte Westre Skog and Herbj?rn Tjeltveit from Stavanger kommune
Fotos: Trygve Indrelid
Source: World Chess Federation – FIDE