Start playing online chess now against real opponents and Grandmasters!
June 10th, 2019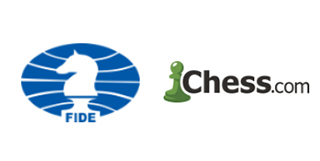 Below you will find the list of players qualified for the FIDE Chess.com Grand Swiss Tournament 2019 as of June 1st.
The lists of players qualified from the African, American and Asian Continental Championships will be published as soon as the respective events are over.
(More info about the FIDE Grand Swiss on this recent press release)
 
FIDE Chess.com Grand Swiss Tournament

 

 
 
 
 
 
Qualification by Average Rating
 
 
Other qualification paths
 
PLAYER
Avg JUL18 – JUN19
games
 
 
 
 
 
Qualified players
 
 
 
 
 
 
1
Carlsen, Magnus
2844.8333
76
 
Women's World Champion

 – Ju, Wenjun.

2
Caruana, Fabiano
2825.0000
66
 
 
 
 
3
Ding, Liren
2807.2500
71
 
Junior U20 World Champion

  –  Puranik, Abhimanyu*

4
Mamedyarov, Shakhriyar
2801.7500
68
 
 
5
Giri, Anish
2785.4167
71
 
 
 
 
6
Vachier-Lagrave, Maxime
2778.6667
92
 
World Senior 50+ Champion

 – Movsziszian, Karen.

7
Anand, Viswanathan
2772.5000
69
 
 
 
 
8
Grischuk, Alexander
2770.2500
46
 
World Senior 65+ Champion

 – Jansa, Vlastimil

9
Kramnik, Vladimir
2768.7500
37
 
 
 
 
10
Nepomniachtchi, Ian
2767.0000
64
 
Qualifier from the ACP Tour

  – Chigaev, Maksim

11
So, Wesley
2767.0000
62
 
 
 
 
12
Aronian, Levon
2766.3333
64
 
 
 
 
13
Yu, Yangyi
2758.0833
90
 
Continental Championships 2019
14
Nakamura, Hikaru
2756.4167
67
 
 
 
 
15
Karjakin, Sergey
2756.1667
53
 
Europe
 
 
16
Radjabov, Teimour
2755.0833
34
 
 
 
 
17
Svidler, Peter
2742.7500
41
 
1. 

Piorun, Kacper

 
18
Topalov, Veselin
2741.1667
13
 
2. 

Movsesian, Sergei

 
19
Navara, David
2736.7500
108
 
3. 

Huschenbeth, Niclas

 
20
Duda, Jan-Krzysztof
2734.6667
59
 
4. 

Oparin, Grigoriy

 
21
Wei, Yi
2734.0000
68
 
5. 

Christiansen Johan-Sebastian

 
22
Harikrishna, Pentala
2731.3333
87
 
 
 
 
23
Jakovenko, Dmitry
2729.5000
78
 
 
 
 
24
Wojtaszek, Radoslaw
2728.8333
72
 
 
 
 
25
Rapport, Richard
2728.7500
68
 
 
 
 
26
Shankland, Sam
2724.3333
72
 
 
 
 
27
Vitiugov, Nikita
2724.0000
85
 
 
 
 
28
Bu, Xiangzhi
2722.8333
51
 
 
 
 
29
Wang, Hao
2721.8333
105
 
 
 
 
30
Artemiev, Vladislav
2721.1667
81
 
 
 
 
31
Andreikin, Dmitry
2719.1667
64
 
 
 
 
32
Le, Quang Liem
2713.4167
102
 
 
 
 
33
Naiditsch, Arkadij
2713.0833
134
 
 
 
 
34
Vidit, Santosh Gujrathi
2708.8333
89
 
 
 
 
35
Fedoseev, Vladimir
2707.5833
94
 
 
 
 
36
Li, Chao b
2703.6667
48
 
 
 
 
37
Tomashevsky, Evgeny
2703.5000
36
 
 
 
 
38
Adams, Michael
2703.3333
70
 
 
 
 
39
Ivanchuk, Vassily
2703.3333
59
 
 
 
 
40
Amin, Bassem
2700.3333
89
 
 
 
 
41
Vallejo Pons, Francisco
2699.2500
58
 
 
 
 
42
Dubov, Daniil
2699.0833
44
 
 
 
 
43
Cheparinov, Ivan
2696.4167
100
 
 
 
 
44
Matlakov, Maxim
2693.4167
63
 
 
 
 
45
Kryvoruchko, Yuriy
2692.6667
63
 
 
 
 
46
Howell, David W L
2691.9167
83
 
 
 
 
47
Sadler, Matthew D
2691.5000
7
 
 
 
 
48
Saric, Ivan
2690.8333
124
 
 
 
 
49
Inarkiev, Ernesto
2690.1667
90
 
 
 
 
50
Mamedov, Rauf
2689.7500
62
 
 
 
 
51
Almasi, Zoltan
2689.6667
39
 
 
 
 
52
Ragger, Markus
2687.8333
98
 
 
 
 
53
Sargissian, Gabriel
2686.5000
28
 
 
 
 
54
Korobov, Anton
2685.7500
100
 
 
 
 
55
Jones, Gawain C B
2685.4167
103
 
 
 
 
56
Bacrot, Etienne
2684.0833
94
 
 
 
 
57
Wang, Yue
2683.5000
28
 
 
 
 
58
Nabaty, Tamir
2683.4167
54
 
 
 
 
59
Adhiban, B.
2682.8333
77
 
 
 
 
60
Eljanov, Pavel
2682.7500
84
 
 
 
 
61
Gelfand, Boris
2681.4167
61
 
 
 
 
62
Cori, Jorge
2679.4167
34
 
 
 
 
63
Rodshtein, Maxim
2678.5833
94
 
 
 
 
64
Ni, Hua
2677.5833
35
 
 
 
 
65
Kovalev, Vladislav
2677.1667
98
 
 
 
 
66
Grandelius, Nils
2676.0833
97
 
 
 
 
67
Leko, Peter
2676.0833
47
 
 
 
 
68
Demchenko, Anton
2673.7500
73
 
 
 
 
69
Ponomariov, Ruslan
2673.2500
48
 
 
 
 
70
Sasikiran, Krishnan
2673.1667
64
 
 
 
 
71
McShane, Luke J
2671.2500
50
 
 
 
 
72
Berkes, Ferenc
2670.8333
68
 
 
 
 
73
Nisipeanu, Liviu-Dieter
2670.5833
95
 
 
 
 
74
Kamsky, Gata
2668.7500
43
 
 
 
 
75
Robson, Ray
2668.5000
51
 
 
 
 
76
Maghsoodloo, Parham
2667.1667
132
 
 
 
 
77
Xiong, Jeffery
2667.0000
125
 
 
 
 
78
Laznicka, Viktor
2666.6667
71
 
 
 
 
79
Najer, Evgeniy
2666.6667
31
 
 
 
 
80
Malakhov, Vladimir
2665.1667
80
 
 
 
 
81
Sjugirov, Sanan
2663.1667
67
 
 
 
 
82
Salem, A.R. Saleh
2662.5000
37
 
 
 
 
83
Melkumyan, Hrant
2661.9167
82
 
 
 
 
84
Guseinov, Gadir
2661.2500
59
 
 
 
 
85
Bruzon Batista, Lazaro
2660.0833
62
 
 
 
 
86
Hou, Yifan
2660.0833
7
 
 
 
 
87
Safarli, Eltaj
2659.7500
121
 
 
 
 
88
Areshchenko, Alexander
2659.3333
13
 
 
 
 
89
Kasimdzhanov, Rustam
2659.1667
29
 
 
 
 
90
Dreev, Aleksey
2658.7500
63
 
 
 
 
91
Swiercz, Dariusz
2658.5000
88
 
 
 
 
92
Kuzubov, Yuriy
2655.1667
129
 
 
 
 
93
Rausis, Igors
2654.5833
78
 
 
 
 
94
Motylev, Alexander
2653.2500
34
 
 
 
 
95
Mareco, Sandro
2652.3333
118
 
 
 
 
96
Hammer, Jon Ludvig
2651.8333
47
 
 
 
 
97
Anton Guijarro, David
2651.1667
83
 
 
 
 
98
Akopian, Vladimir
2650.8333
9
 
 
 
 
99
Kovalenko, Igor
2650.5833
89
 
 
 
 
100
Sethuraman, S.P.
2650.0000
105
 
 
 
 
 
Reserves
 
 
 
 
 
 
1
Lenic, Luka
2650.0000
21
 
 
 
 
2
Ipatov, Alexander
2649.5000
15
 
 
 
 
3
Riazantsev, Alexander
2649.3333
20
 
 
 
 
4
Shirov, Alexei
2648.3333
92
 
 
 
 
5
Onischuk, Alexander
2647.5000
7
 
 
 
 
6
Fressinet, Laurent
2646.4167
68
 
 
 
 
7
Sevian, Samuel
2646.1667
104
 
 
 
 
8
Moiseenko, Alexander
2645.6667
50
 
 
 
 
9
Short, Nigel D
2645.1667
41
 
 
 
 
10
Edouard, Romain
2644.0833
113
 
 
 
 
11
L'Ami, Erwin
2642.3333
69
 
 
 
 
12
Parligras, Mircea-Emilian
2642.0000
75
 
 
 
 
13
Granda Zuniga, Julio E
2641.3333
53
 
 
 
 
14
Zvjaginsev, Vadim
2641.1667
64
 
 
 
 
15
Bauer, Christian
2640.8333
116
 
 
 
 
16
Gustafsson, Jan
2640.6667
18
 
 
 
 
17
Kravtsiv, Martyn
2640.5000
83
 
 
 
 
18
Papaioannou, Ioannis
2639.0833
20
 
 
 
 
19
Bok, Benjamin
2638.6667
49
 
 
 
 
20
Alekseenko, Kirill
2638.0000
90
 
 
 
 
Source: World Chess Federation – FIDE