Start playing online chess now against real opponents and Grandmasters!
June 12th, 2019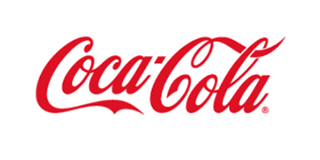 It is with great satisfaction that we announce today a brand-new cooperation agreement has been signed between FIDE and the Coca-Cola company.
Coca-Cola has a long history of supporting sports, a tradition which dates back nearly a century ago. This company is the longest continuous corporate partner of the IOC (since Amsterdam 1928), and it has helped numerous athletes and Paralympic athletes to achieve their goals.
Working together with world-leading companies for the benefit of chess is one of the main goals for FIDE. This cooperation with Coca-Cola is an honour that presents us with great opportunities to promote our sport. "Chess is not only the most popular of all games, played by millions of people (…). It is also a unique sport that requires a sharp mind, smart strategy and competitive spirit to be the best. These are values that Coca-Cola is proudly committed to supporting", reads their announcement.
The cooperation between FIDE and Coca-Cola will take off this summer with two pilot projects. The first one will be the Open rapid and blitz tournament that will be held in Riga in July (alongside the Grand Prix), which is set to be the strongest event of the kind in 2019. The second competition that will receive the support of Coca-Cola will be the Polish Team Chess Championship – Extraleague in Silesia, Poland, at the end of August. We will work together to ensure that these are merely the first steps of a long-lasting partnership.
Overview: Coca-Cola and sports
Twitter: @CocaCola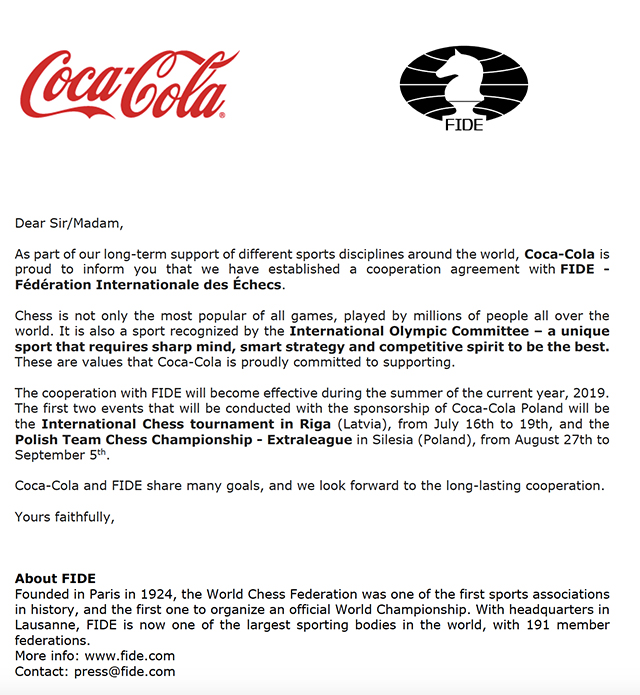 Source: World Chess Federation – FIDE