Start playing online chess now against real opponents and Grandmasters!
June 12th, 2019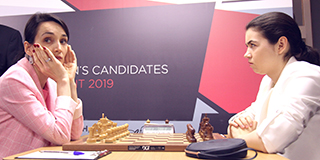 ADVANCE: Lagno, unable to reduce the gap with Goryachkina
The central game of the tenth round between the leader Aleksandra Goryachkina and the nearest pursuer Kateryna Lagno finished in a draw. The "miracle" didn't happen and Goryachkina keeps a comfortable lead in the Women's Candidates Tournament, with two and a half points over her rival today. In the only decisive game of the round, Alexandra Kosteniuk defeated her teammate Valentina Gunina. Anna Muzychuk played a relatively uneventful draw against Tan Zhongyi, while Mariya Muzychuk got some chances against Nana Dzagnidze but in the end showed the same result as her sister.
After ten rounds, Aleksandra Goryachkina leads with 8 points. Kateryna Lagno is in second place with 5,5 points, Mariya and Anna Muzychuk share third place with 5 points. Nana Dzagnidze and Alexandra Kosteniuk share 5th place with 4,5 points. Tan Zhongyi has 4 points, and Valentina Gunina has 3,5.
Round 10 results:
Kateryna Lagno — Aleksandra Goryachkina | ? — ?
Alexandra Kosteniuk — Valentina Gunina | 1 — 0
Anna Muzychuk— Tan Zhongyi | ? — ?
Mariya Muzychuk — Nana Dzagnidze | ? — ?
Source: World Chess Federation – FIDE